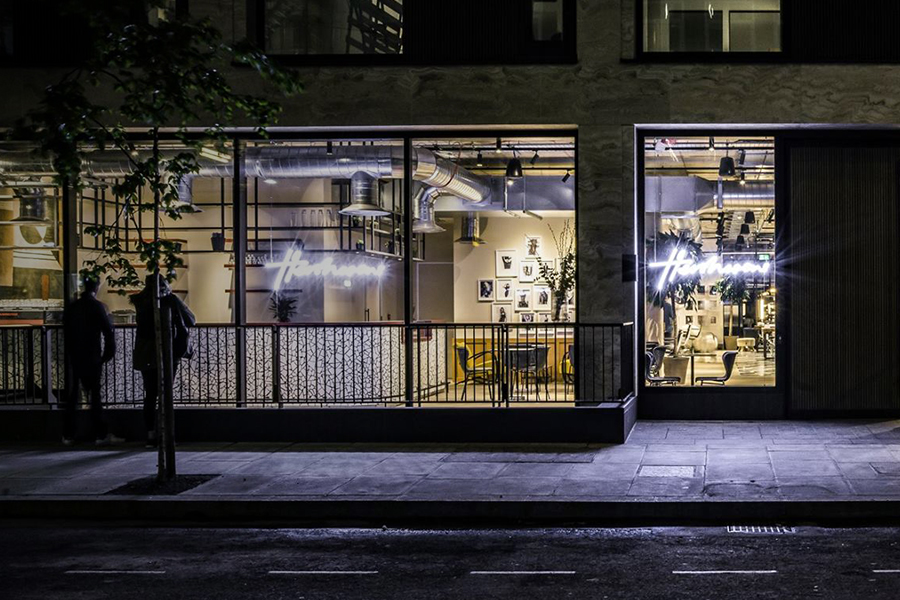 Industry: Salon
Company HQ: United Kingdom
From day one, Hershesons has been a salon pushing the boundaries in technology, innovation, and style—introducing new ideas to the salon industry such as the first professional hair-straightening iron and the highly popular "blow dry bar" concept. The most recent of these innovations is a new salon format found on Fitzrovia's Berners Street. The 5,000-square-foot space is more than a salon—it is a full-service beauty experience, with specialists in hair, nails, skin care, brows, and more.
SYSTEMS DESIGN & INSTALLATION
The 5,000-square-foot salon has five distinct spaces where different services are performed, each resulting in a different music volume need. To address this challenge, the space was divided into five separate zones—one for each unique space, so that the volume could be uniquely controlled in each area. To present the best sound in the space, PlayNetwork recommended JBL pendant speakers placed strategically within each zone to ensure that the speaker output is heard directly by the listener.
The sound frequency of a hairdryer is nearly identical to the human voice (approximately 400–600Hz, which means that it can be difficult to hear music over the sound of a hairdryer). PlayNetwork leveraged the Harman DSP feature to enhance the music so that it will be heard over the hairdryers without having to be too loud.
In partnership with Luke Hersheson, PlayNetwork's music supervision team curated three distinct channels for Hershesons that transition with the mood of the salon throughout the day.
"I just feel like there are lots of negative connotations with the word 'salon'—it's old-fashioned and intimidating…. They're not places where people enjoy the experience. I wanted to turn it on its head and make it somewhere you want to go, that will make you feel good throughout the whole process, not just with the end result." - Luke Hersheson
According to founder and owner, Luke Hersheson, "It's all about the customer: listening to what she wants, and doing it when she wants and how she wants." And Hersheson's salon exemplifies that mission: a phenomenal salon experience that is focused on the customer.