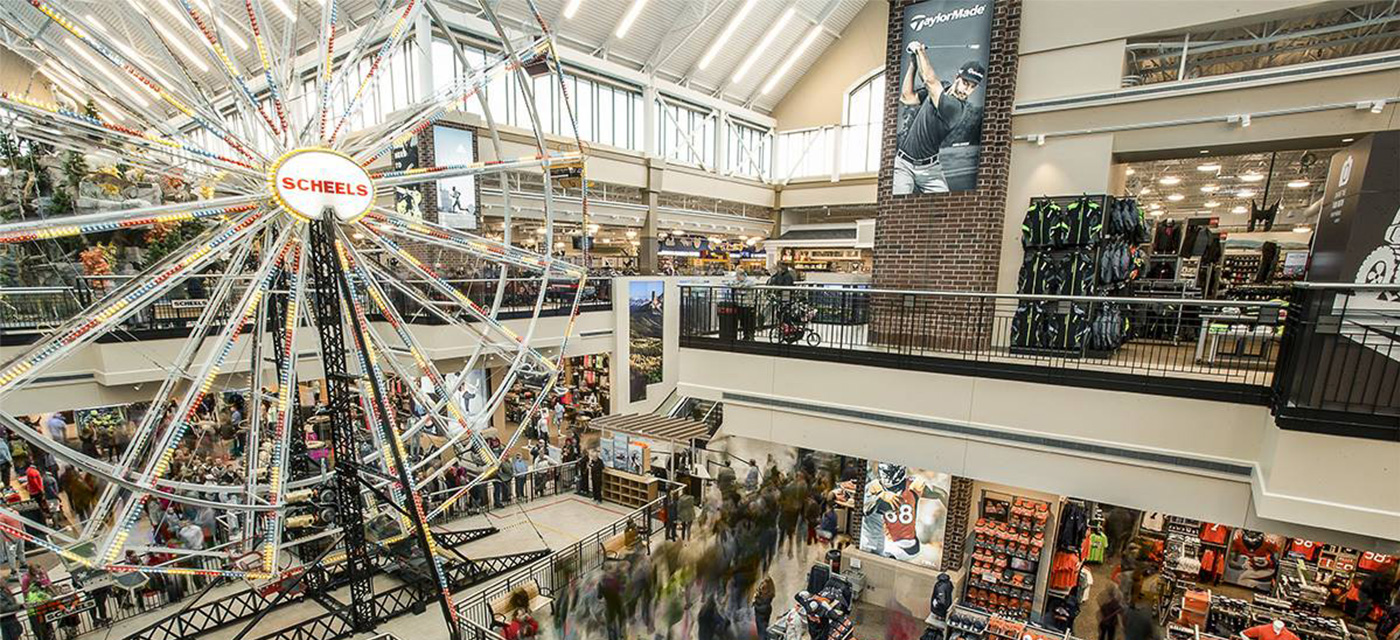 Industry: Retail
Company HQ: United States
Scheels' 300,000-square-foot all-sports superstore houses the world's largest selection of sports, sportswear, and footwear under one roof. Looking to drive traffic to their stores, and connect customers with their brand, they came to PlayNetwork to create a one-of-a-kind experience in their stores. Nothing short of spectacular, the store features four giant columns with 36, 40-inch HD LCD monitors that display dazzling brand and lifestyle video footage, beyond which lie two 16,000-gallon aquariums, a customer tram, sports simulators, shooting ranges, and a 65-foot indoor Ferris wheel.
The Scheels All Sports locations feature over 150 screens of video content, motion graphics, and even digital menu boards inside their Gramma Gina's restaurant.
BRANDED MUSIC AND MESSAGING
To bring the store to life, a custom music and messaging program was developed for Scheels. The audio solution included eight concepts—from aquatic soundscapes around the aquariums, to a playlist of female singer-songwriters for the women's clothing section—which were then distributed to 15 zones within the store.
ENTERTAIN CUSTOMERS, EDUCATE EMPLOYEES
With 39 video channels, Scheels is able to feature a variety of content throughout the stores to over 100 screens. Additionally, a custom A/V system was installed in the back-of-house training rooms to enable Scheels to provide employee training events.
The result is a stunning, memorable, and centralized floor-to-ceiling experience featuring consistent content enjoyed by customers and employees.